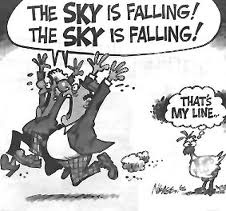 A few months ago, I shared a talk on how anxiety robs us of our freedom.
Remember Chicken Little?  That's where this story begins.
Chicken Little is the one who was scampering about one day until an acorn fell on her head.  After being hit, she became hysterical and started yelling, "The sky is falling!" immediately mobilizing to warn her friends of the imminent danger.  The story has a variety of endings, one of which has her retreating into a cave.  In her quest for safety, she is lured there by a wily fox, and in a tragic turn of events the cave of safety is where she meets her end.
Anxiety is universally experienced.  Even when it's covered in anger, masked by sadness, or cloaked in skepticism: We. Are. All. Anxious.
________________________________________
What's the falling sky in your world?
…………..
What's the cave you're retreating to for shelter?
Think about that for a moment.  Is it food?  Work?  People?  Exercise?
Or, maybe it's cloaked in existential terms: Achievement?  Belonging?  Success?  Independence?
________________________________________
The cave is a great metaphor for three possible ways we try to manage our anxiety: 1. We hunker down in the cave to control it (unsuccessfully).  2. We flee to the cave to avoid it.  3.  We sink into the cave, feeling paralyzed and imprisoned by it.  Initiate surrender.
The problem is, when we retreat into the cave looking for safety, in our own ironic way, we end up becoming consumed by our anxiety.  It swallows us up, like the deep caverns of a cave.
_________________________________________
Anxiety limits our freedom in several ways:
Disrupting connection:  When we retreat to the cave, it keeps us from relationships.  We're so preoccupied with our fears that we push away genuine connections to focus on managing those fears.  Or, we pull our favorite people into our caves and depend on them to "fix" our fears so that our demands keep us from genuinely loving them.
Flooding:  We allow those shadows to loom so large on the walls of our cave that we become self-absorbed and lose sight of everything else.  They become all-consuming.  Perspective is lost.  Our story gets dialed down to our anxieties and nothing more.
Increasing Guilt/Shame:  When anxiety is viewed as a disorder, we tend to feel guilty and ashamed of it, which only serves to increase our worry.
___________________________________________
Our culture sets us up to be more anxious.
As a culture, we pathologize anxiety.  We have the Diagnostic and Statistical Manual of Mental Disorders (DSM-V), which has 12 anxiety-related disorders, and hundreds of variations within.  There are about 50 types of anxiety medications, not including generic forms.  There's also a common language that we use in every day conversation about stress, worry, nerves, anxiety, and fear.
Cultural education about anxiety can be helpful, but it can also lead to over-concern about our symptoms, as abnormal and disordered.
Now, add to this cultural landscape the idolization of safety, and you have the perfect storm.
When I gave this talk, it was right after the Super Bowl, and the Hyundai Genesis commercial captured it well.  It's the one where the dad follows his son around as a portable safety net, there to catch him any time he's about to fall.  The commercial touts that Dad's ability to predict and prevent accidents for his son is his "Sixth Sense".  You can also look at any insurance commercial to find that safety and prevention is priority one.  There's a problem with this.
Our world isn't safe.
There are dangers all around us, and we experience pain and suffering all the time.
When culture preaches safety while we are, simultaneously experiencing danger, it increases our anxiety.  Then, when anxiety is also viewed as unsafe by our culture, it creates more anxiety.
It's the perfect storm to leave us ducking into caves for shelter.
The good news is we don't need safety the way we think we do.  When we huddle in our caves, we miss out on the freedom of being truly alive.
How do we face anxiety with courage?  Stay tuned….
In the meantime, consider your own falling skies, and consider the caves you retreat to.  How do they block you from the people and the things that truly matter?